Giving continuous, useful feedback is such an integral part of good teaching. I'm at a loss as to why it does not form a bigger part of the PGCE!
Many new teachers (myself included) struggle with how to give good feedback. Finding the time to do it, finding the motivation to give it and, of course, doing it effectively.
There are many different methods to give feedback and the best way to find YOUR best way is to experiment. Below are a two methods I frequently use, both of which can be pretty easily integrated into the teaching day.  Please comment any ideas or methods you use which work well!
1. WWW and EBI
Whenever my students complete an assignment, I try to assess in the form of  a "What Went Well' (WWW) and 'Even Better If' (EBI).
When I first started giving this detailed feedback in books, I was amazed at the response! I think something about it really affects the students as they know I have truly taken the time to read what they have produced: I have noticed if they have listened and tried, however successfully, to put into practise what I have taught.
Depending on how much time you have, the WWW and EBI back can be one line or a whole paragraph. What's important is that is precise and goal oriented.
A few more tips
You can colour this feedback these, so students know that certain colours mean certain things. For example, purple is praise and green is for goals/ways to improve
For a bigger project or for term target feedback, always try to give a detailed paragraph of feedback that is SMART (Specific, Measurable, Achievable, Realistic, Timely)
Do it verbally! A really great way of giving feedback after an oral presentation is to immediately ask the class for some WWW's and EBI's. This has the added bonus of encouraging the class to listen more critically as they know they will need to give feedback afterwards. Any gaps can be filled in by the teacher at the end.
The WWW and EBI method is powerful because its  its positive. Sometimes, all I give is a WWW! Just an acknowledgement is often constructive: Students are more likely to do something again if they are  been validated and reassured that they did it right the first time.
Yes, doing this does  take time…. a lot of time. But it also provides ample evidence for report writing. And more importantly, it is a useful way to spend time – unlike many silly admin tasks that unfortunately make up too much of our time as teachers.
2. Setting an Assignment/Subject Term Outcomes up for self assessment
This may not seem like giving feedback but it very useful in training students to self assess and take responsibility for their own learning.
It works by simply providing a checklist of things for students to tick off as they complete/after they complete a task. This obviously needs to be precise and linked to the specific outcomes of the task. A simple example, for writing a story: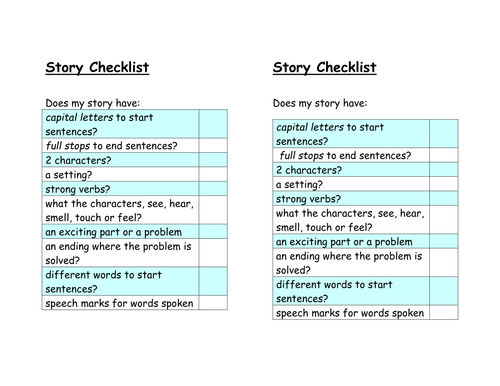 You can also use this principle to help students track their progress through the  learning outcomes for a particular subject. I find this easiest and most useful in the form of an 'I can' booklet or document where students can rate their knowledge of outcome as Red, Amber or green (RAG).
I have created a booklet of 'I cans' for Year 7,8 and 9 Science that have been coupled with Revision tasks. You can purchase these from my TES shop here 
Remember, feedback does not always have to be given by the teacher! More often than not, your students are capable of giving reasonable, good advice to their peers if they are given the chance. Get the students to swap books and assess each other's work- Just make sure you assist the weaker students so everyone gets decent feedback.
Some final thoughts
I ran a little thought experiment this year as I was trying to figure out for myself the difference between 'feedback' and 'marking'. Every time I assessed, I mentally examined the difference in my own feelings when examining an assignment for 'marks' and examining general classwork tasks.
I found I was instinctively a lot more objective and critical when it was just classwork. There is such a sense of pressure that builds up around tests and projects 'for marks' – stemming from parents, teachers and the students themselves. I care about the students and their sense of self worth and I want them to feel proud of themselves so I look for 'marks' wherever I can find them. In the process, I sacrifice an opportunity to show a student how they could improve at something.
This is what has motivated me to make a conscious effort to constantly think about 'giving feedback' rather than 'marking'work. It has also motivated me to minimize formal assessment as far as possible in my teaching practise. Yes, a certain amount of standardised testing is needed for students to get qualifications. But, in the journey to get ready for this, there is no need to repeatedly put students under similar pressure. It will not make them any more ready and more importantly ,it will necessarily help give them skills that will make them more employable or entrepreneurial in the future
This is also why I advocate for school wide systemic change – there is something very wrong with a system which, in 2017, still tries to convince students that test scores are more important than being able to do something . As Sal Khan speaks on so beautifully below….